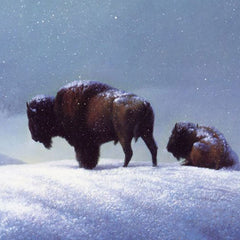 "The Last Stand" By Dalhart Windberg
Our Story
It all started with the painting above.  I always admired all that it stood for, the beauty of the painting, and how the brush strokes flowed.  But most of all, I was always intrigued with the thought of what was about to happen...the battle that was about to take place...four wolves, starving in winter conditions on one side and a strong bison on the other side, protecting the one he loves. Who would win out?
I would stare at this painting every time I walked into my grandparents' house.  My Grandfather would walk into the room, see my staring at it, and tell me over and over, "You have to be willing to take a stand for what you love and believe in, just like in this painting."   That has stuck with me my entire life.  He would pass away in 2005.
Fast forward to 2018...while I sat at my kitchen table, around 11:00 pm one night, I kept thinking, "What is a great name for a hat company that has meaning behind it?"  After numerous failed ideas, I got up and walked down the hall.  I looked to the left and there was my Grandfather's painting.  I stopped and stared, as I always do, and admired everything about it.  It then hit me like a ton of bricks.  I ran back to the kitchen table, got on my computer, googled 'Last Stand Hats'...a big smile came across my face and I realized in that moment...Last Stand Hats was born. 
My Grandfather was my hero, and this is my way to honor him and have him be a part of something that not only I believe in, but I know he would as well.
Each Last Stand Hat is made with high quality and pride.  Our hats are for those who are willing to make a stand for everything they love and believe.  While wearing one of our hats, we hope that you will be reminded of that.  
So I ask you.....what is your Last Stand?
OUR STORY